Ownership confers automatic entrée to the social whirl of racing, meeting top trainers, jockeys and leading owners from around the world. Name your horse, choose your colours, pick your trainer, visit the racing stables, have a punt and share the costs and enjoyment with kindred spirits in our all-in fixed cost racing partnerships.
It is a thrill to see your partnership's or your own name as an owner in the race card and in the press and adds to the excitement and expectation of the day. For some the best part is acquiring a horse in the first place, either at the yearling or breeze up sales, privately, or by leasing. A good judge can pick out a promising horse without spending a fortune. The 2006 Derby winner Sir Percy cost a mere 16,000 guineas as a yearling and the 1,000 Guineas winner Speciosa was a 33,000 guineas buy at the breeze up sales as a two-year-old. Winner of the 2,000 Guineas, Cockney Rebel was sold as a foal for 15,000 guineas and then for 30,000 guineas as a yearling.
Through appropriate sponsorship that can be easily arranged, VAT on the purchase price and training fees can be recovered, and our all in fixed costs shared amongst partners reduces greatly the expense of ownership.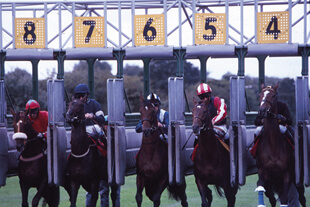 Breeding a winner yourself is, however, the most satisfying outcome of all, especially if it's in your own racing colours. To find out more, please see Bloodstock Breeding.
+44 (0)1327 855 513 / 855 660
Charlock Stud – Abthorpe – Towcester – Northamptonshire – NN12 8TW – UK