Free Leasing & Sponsorship
Free leasing is like ownership without the capital outlay whilst sponsorship gives the right to promote a corporate brand and the two are often combined. The sponsor makes an annual payment in return for certain branding sites on the chosen horse such as jockey's colours, handler's jacket, baseball caps and the horse's rugs. With free leasing a racehorse is leased without rental for a period of twelve months with an option to either extend or buy a share in the horse. This usually entitles the lessee to name the horse and benefit from any appearance or prize money won.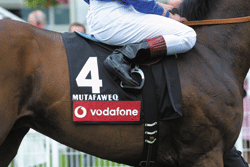 Sponsorship is an excellent advertising medium for increasing brand awareness via TV, newspaper and satellite coverage, as well as being a first class vehicle for corporate hospitality. Free leasing enhances these benefits as what could be better than naming your horse after your company and then watching it win?
+44 (0)1327 855 513 / 855 660
Charlock Stud – Abthorpe – Towcester – Northamptonshire – NN12 8TW – UK